2017 Mobile Online Casino Games
The King's Top Mobile Casino Choice
It's the 21st century - the days of just playing games on your home PC are long over.
Maybe you have a long commute to work every on the train. Maybe you are sitting on the beach. Maybe you are just sitting on your back porch and don't have a PC in front of you.
It's the 21st century, and people are using their phones/devices for practically everything, including playing at online casinos. If your favorite online casino doesn't provide you with the capability of playing on your phone or smart device, then they are missing out.
Online casinos are slowly starting to realize that many people simply use their phones and
mobile devices
for practically everything these days - including playing at online casinos.
This page will be an ongoing list of some of the top online casinos that offer the ability to play via a phone, PDA or other wireless device. Whether you are using an iPhone, iPad or Blackberry, these online casinos will have software packages that you can use on your device:
Bodog Casino
-
According to their website, Bodog Casino offers its users the ability to play on a cell phone, Blackberry, Smartphone, PDA or other wireless device.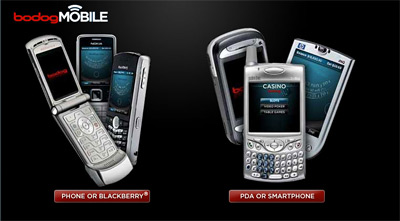 Bodog has been around since 1994, and they are widely considered to be one of the top online casinos in the world.
Bodog offers all of the table games that you could possibly want, including roulette, blackjack and craps. In addition, they also offer slots, paigow poker and hundreds of other games as well.
Bodog offers an unlimited 10% bonus to all of their new casino customers. Check out our
Bodog Casino Bonus Code
page to find out more details.