New Promotion at the Titan Casino - Bonus up to $4,000 - How does it work?
Published on May 6th, 2011
Titan Casino just redesigned their site. It looks really nice. They did a good job.
On their home page they are featuring the game of roulette. Here is a screenshot.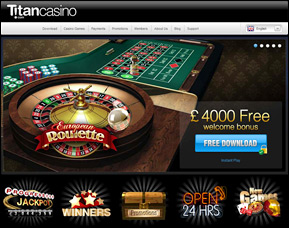 Eyes right away go towards the Free $4,000 promotion.
How does this promotion work? Isn't $4,000 a lot of money to be give away by a casino?
Well, the bonus is not given all at once. This is how the promotion works.
It is a combination of 3 different bonuses; an initial deposit bonus, a monthly bonus and a weekly bonus.
The initial deposit bonus is a 100% bonus up to $200
There are 12 monthly bonuses, again 100% up to $200 for a total of $1,200
There are 26 weekly bonuses of 100% up to $100 each. for a total of $2,600
So all combined this is a $4,000 bonus promotion.
So a brand new design, well established online casino and a big bonus. Sounds pretty good.
Enjoy your stay at Titan Casino.
Good Luck.